Boy I don't know why this year of all years I am so ready for the holiday season. Yesterday I spent going through all my dvd's to find the Santa Clause movies just so I could watch them while working. I mean I alway love the Christmas season you can ask my husband about that. But this year is different. I guess part of it is for only the 3rd time in my life I will be away from home for Christmas in my own house. Kinda makes you feel all grown up. I get to plan what I want to do for dinner, what desserts I want to serve, and I get to watch my husband hand out the Christmas gifts. It's bitter sweet, but needless to say I will miss my family dearly BUT Christmas is finally mine!!!!!!!!!!!!!!!!! (Insert evil laugh here) My husband has no idea what he is in for this year. I promised him no decorations would come out till after Thanksgiving...but oh the plans are already starting to formulate. I am searching websites for new things to try...But before all that can come together we must celebrate my favorite holiday (besides Christmas)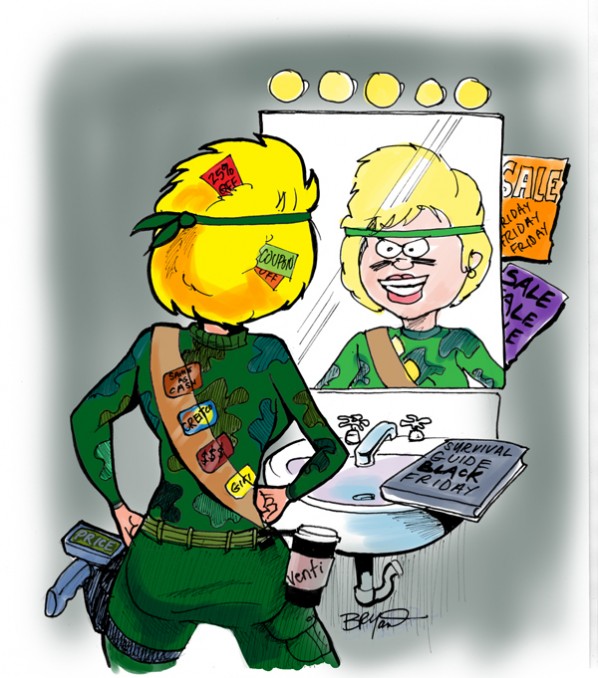 Black Friday Shopping!!!
It's not insanity it's a tradition! My bff and I have gone every year for the last 10 years whether we needed anything or not. It seperates the women from the mice...LOL Here is a layout that I did of our shopping experience a couple years ago.
The car was soo stuffed that we were wedging them in the backseat. It was such a fun day!!
This was a card I sent to my bff as a kick off to the holiday. I found the inspiration on the web a few years back. I am sorry I didn't keep the credit for the person that came up with the idea. But isn't this fun?
Well I am off to start scouting my Black Friday plans! I hope you all have a wonderful weekend. Oh yeah 21 days!!!!!!!!!!!!